Therefore, we are ambassadors for Christ, God making his appeal through us. We implore you on behalf of Christ, be reconciled to God.
II Corinthians 5:20
Hello friend, We are so glad you have stopped by our church web home. My family and I would love to meet you! We have several services throughout the week. We are looking forward to getting to know you. Pastor Trent & Charissa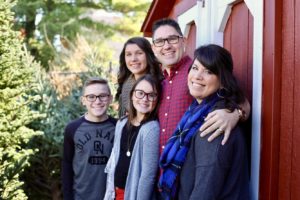 Autumn, Kole, & Skyler Morgan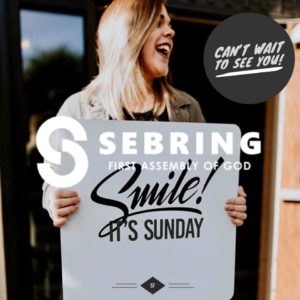 I count it a privilege to pray for you! Please click the link below and send me your prayer needs. I commit to praying for your prayer requests daily! You may also request to be put on our prayer list. Our church family prays over these needs throughout the week. We are believing with you for your need to be met! Pastor Trent
Sebring First is a family integrated fellowship
We are all about being reflectors of God's light to a world in need. We hope you see our passion for Jesus and His gospel. He is the only reason that we do what we do — preaching, children's ministry, student ministry, small groups, outreach, and worship.
If you were to ask us to describe ourselves in one sentence, we would say, "We're a gospel centered, city focused, church community."
These three elements create the DNA for us to live all of life for the glory of Jesus. As a Gospel Centered church, you will notice that we believe the gospel is so much more than a starting point for people. The gospel is all of life, and it shapes the very way in which we live life together with our family, friends, city, and the rest of the world. We want to view and live all of life through the gospel, which is the truth for all of us.
What will you find at Sebring First?

WORSHIP
We believes that worship is a vital part of our relationship with God! You will experience freedom to worship in our services as we join together corporately giving praise and honor to the Savior of the world!
Sunday Morning Worship 10:30am
Sunday Evening Worship 6:30pm
Wednesday Evening 7:00pm

STUDENTS
Sebring First Student Ministries is a place where middle school and high school students can experience God's presence through powerful worship and relevant messages! There is no shortage of excitement during game time and all students that attend these services are fed a meal or snack. God is transforming these students in epic ways. Join us on Wednesdays @ 7pm!

CHILDREN
Sebring First Kids is a fun-filled opportunity for children to grow in God's grace and love through bible stories, puppet skits, object lessons, creative songs, and more! There are classes for kids of all ages ranging from infants to elementary school kids every Sunday and Wednesday in the children's wing. Our kids volunteers can't wait to meet you at the check-in booth!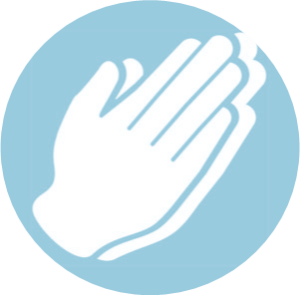 PRAYER
We believe in the effective power of prayer! Prayer is woven in the fabric of every service as time is taken to lift up the needs of those who have requested special prayer throughout the week. Mid-week pre-service prayer takes place in the sanctuary from 6-7pm on Wednesdays. Everyone is welcome to attend. We would love to pray for you! If you would like your request added to our weekly prayer list, email them to: sebringfirstassembly@gmail.com
EVANGELISM
Our goal is to see our neighborhood, community, nation, and world touched by the message of Jesus Christ! Our reach goes across the globe through our financial support of over 50 missionaries spreading the gospel to people groups in need. Right here in our own community we evangelize through food outreaches, revival services, and more, responding to the daily need of hurting individuals. To know more about how you can get involved in these outreaches, email us at: sebringfirstassembly@gmail.com
HOSPITALITY
Our church is known for being the friendliest church around! We want you to feel welcome from the moment you arrive on our lot. Our hospitality team is ready to serve you! Whether it's giving you a ride from the parking lot to the sanctuary with the church courtesy cart, or helping you and your children get to the kids check-in area, or simply helping you find your seat, we are here to serve! Our team could always use another member, if you would like to volunteer, email us at: sebringfirstassembly@gmail.com

WOMEN
Sebring First Women get together throughout the year through small groups, monthly luncheons, events, and our yearly ladies conference. SF Women are on the move, growing together in God's grace! We would love to connect with you.
Charissa Morgan – SF Women's Coordinator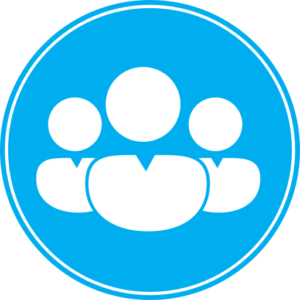 MEN
Sebring First Men get together throughout the year through small groups, bible studies, events, and conferences. SF Men are stepping up by becoming more like Christ in word and action. We would love to connect with you.
Jerry Melendy – SF Men's Coordinator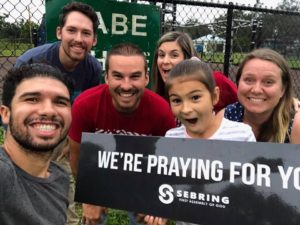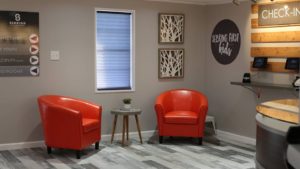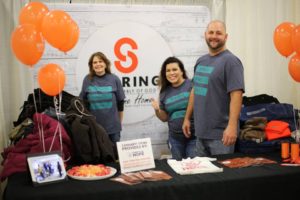 We exist to make Jesus known.

FAITH
Sebring First Assembly of God believes that advancing God's Kingdom doesn't come through new ways of doing church, but through the ancient way — faithful preaching and contextualizing the unchanging gospel within a changing culture. Sebring First teaches faith in Jesus Christ, God's only Son, as the only way to eternal life.

FELLOWSHIP
Our church is a place where you will feel welcomed as soon as you walk in the door! We are a family of believers growing together in God's love. There are many ways for you to connect. Weekly worship services are every Sunday at 10:30am and 6:30pm. Wednesday evening bible study begins at 7pm. We can't wait to meet you!

OUTREACH
The heart of Sebring First is to see our community, nation, and world know God's love as we become "Jesus with skin" to others. There are many opportunities for you to get involved in Sebring First outreaches. We have a wonderful team and there is always room for more! We are blessed to be a blessing!
Sebring First Assembly of God
Address: 4301 Kenilworth Blvd.
Pastor: D. Trent Morgan
Email: tmorgan.sebringfirst@gmail.com
Check us out on social media @